Faulu Reaching the Base of the Pyramid with Off-Grid Lighting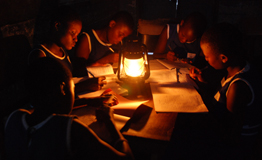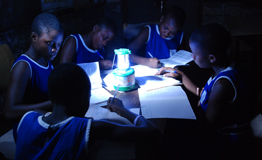 Left: Students studying under a kerosene lamp
Right: Students studying under a portable solar lamp
© Wilkens/Lighting Africa

By Faulu Advisory
"The police had come to arrest me because they thought I had stolen electricity cables to light my house.  When they arrived, I showed them my solar lamp.  They were very surprised and impressed and they said they will also purchase one." Shabaan, Malindi
Faulu Advisory Services (FAS), a subsidiary of Faulu Kenya Deposit Taking Microfinance Institution (FKDTM), provides advisory and consulting services to catalyze growth of micro, small and medium enterprises and the institutions that serve them.  Serving its mission to 'empower people and businesses to excel' FAS is supporting marginalized communities in Kenya to purchase solar portable lamps that have passed Lighting Africa quality tests. Through its nationwide microfinance schemes, families, schools, businesses and whole communities are able to afford clean, modern off grid lighting products for the first time.
FAS established its energy division in partnership with Arc Finance to pilot solar lighting products almost two years ago.  In less than one year, they have distributed over 3000 solar products to communities in need.
For example, students from a school in Webuye had been using kerosene lamps for their evening and early morning studies (with each lamp consuming about 300 kshs per month, equivalent to approximately four US dollars). FAS provided a classroom with a solar lamp to replace some of the kerosene lamps and the students have been able to extend their study time by several hours every day, benefiting from superior quality light which is also maintenance free and non-hazardous. The school plans to purchase additional lamps to extend to other classrooms.
FAS empowers clients at the base of the pyramid (BoP). Through its work, both small business and households are benefitting from an improved quality of life, increased productivity and income levels.
"I have a business in Lodwar and I realized that the landlord was ineffective in paying electricity bills so there were frequent blackouts. Through FAS I was able to buy a lamp for my business. Nowadays I don't pay bills and I have influenced three of my friends in Lodwar. Thanks so much for the technology" says Gladys, Lodwar.
"I took the lamp against my husband's wishes and gave it to my children to use it for studies because kerosene was more expensive for me. After some time he realized something strange in the children's room. When he learnt about the product he advised me to go for another one, which I did.  Nowadays, 'sina wasi wasi' (I don't worry) because the lantern, which uses kerosene, was sent packing and I don't switch off my phone as I used to. I now have two lamps and my children enjoy reading for more hours. Maisha ni bora na hizi taa" Chepkoech, Kitale.
FAS has a nationwide network in Kenya.