d.light Celebrates Reaching 10 million People with Solar Lighting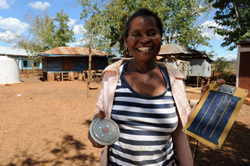 American solar lantern manufacturer d.light design celebrated its fifth year in the off-grid lighting business with an announcement that its products have reached 10 million people worldwide.
A quarter of these are school-aged children who no longer have to rely on the low quality lighting from hazardous kerosene lanterns or candles.
d.light aims to positively transform the lives of at least 100 million people worldwide by 2020 with its solar lamps.
"The vision for d.light from the very beginning was to make a huge impact on individual lives on a global scale," said co-founder Sam Goldman on the eve of the Third Off-Grid Lighting Conference and Trade Fair held in Dakar this November.
He said the company has a product development agenda focused on continuous innovation in order to enable more people higher up the value chain access clean, reliable energy products.
d.light's Chairman and CEO Donn Tice said: "This will not be our last milestone . . . just one high point reached on our goal to bring modern light and power to 100 million people worldwide."
"We are thrilled at this achievement," added the company's President Ned Tozun; "But we also realize that our work is just beginning. There are still over a billion people without electricity, and we want all of them to enjoy the benefits of clean, safe and bright light."
The company says its customers have cumulatively saved over USD$135 million in energy-related expenses. This translates to more productive hours, measured at over 3 billion hours, which directly translates into increased income for education, health, and leisure.
d.light is financed by social enterprise funds Omidyar Network, Acumen Fund and Gray Matters Capital; and venture capital firms Nexus India Capital, Draper Fisher Jurvetson, Garage Technology Ventures, and the Mahindra Group.