Communities Reap Multiple Benefits from Clean, Safe Solar Lights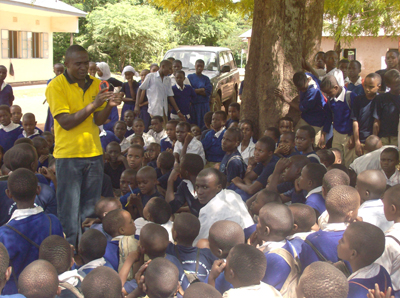 Victoria Materu and her two children live in the rural Kilimanjaro region of Northern Tanzania. If there is one thing she has come to value, it is the safety and security her solar light has brought to their lives.
Before acquiring her solar lantern in May 2012, she relied on a kerosene-powered lamp to light her home and was in constant fear for her children's safety whenever she had to run evening errands.
Today she says: "Even when I am not around the house in the evening, I don't have any worries about the risk of kerosene spilling and burning the house because solar is easy to use and the children can put it on without me being around."
Victoria learnt about the modern, portable solar lanterns from her children following a visit bySunnyMoney to their school.
SunnyMoney had taken their schools' campaign to Malilo Primary School and held demonstrations on how solar lights work and their advantages over kerosene lamps. The school's head teacher then invited parents to come and buy solar lanterns.
Victoria bought the solar light for her son Calvin so that he could study comfortably in the evenings.  She told a team from SunnyMoney in a recent return visit to the area that Calvin is now able to study for two extra hours in the evening using the solar light.
When she used kerosene, her household had three hours of evening lighting, but with thed.light S10 solar light, they now enjoy about five hours of lighting each evening.
"The solar light helps [the children] to study longer because they are assured that the light lasts longer, and it is very strong and powerful," Victoria told the SunnyMoney team.
Victoria also reports saving a lot of money; she used to spend over 15% of her income buying kerosene to light her home each week. She now buys less kerosene which, even after the cost of the $6 for the solar light, saves her over $35 a year.
"I use the savings for buying food and paying for school expenses," she said. Nearly half of people interviewed by SunnyMoney in the area about the benefits of solar lights said that they used savings from reduced kerosene use for food, and a quarter for school fees.
SunnyMoney, a distributor of quality, affordable solar lanterns, is working towards eradicating kerosene lighting in rural un-electrified Africa by 2020 by increasing access to solar lights through school campaigns, and other consumer outreach activities.