//= Titles\title(); ?>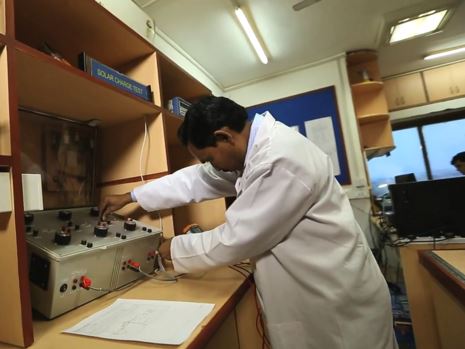 Lighting Global coordinates a network of sampling agents and laboratories to test off-grid lighting products across the supply chain, from the factory shipping floor to retail shelves.


Test laboratories must sign a Memorandum of Agreement (MOA) with CLASP that governs their participation in the Lab Network. Please see the Test Lab Accreditation Requirements document for more details on how to find or become an independent test laboratory capable of providing valid results for Lighting Global according to the IEC/TS 62257-9-5.


The laboratories listed below are approved to conduct tests for Lighting Global. Based on training, capacity, and accreditation status, the laboratories may be approved to conduct one or more types of testing according to test methods in IEC/TS 62257-9-5.
Test Laboratory
Approved Test Types*
ISO 17025 Accreditation for IEC/TS 62257-9-5

Schatz Energy Research Center




Arcata, California, USA

QTM, Renewal, AVM, ISM, MCM


Accreditation body:

ANAB
View certificate

Shenzhen Academy of Metrology and Quality Inspection




Shenzhen, China

QTM, Renewal, AVM, ISM, MCM


Accreditation body: 

CNAS
View certificate

Intertek HK




Kowloon, Hong Kong

QTM, Renewal, AVM, ISM, MCM

Accreditation body: TAF
View certificate

University of Nairobi – The Lighting Laboratory (UoN-LL)




Institute for Nuclear Science & Technology




Nairobi, Kenya

MCM

 Accreditation body: KENAS 

Solar Lighting Laboratory




The Energy and Resources Institute (TERI)




New Delhi, India

MCM

Accreditation body:

NABL
View certificate
The primary sampling agent used by Lighting Global is Intertek Hong Kong and their affiliated partners in other regions.
NOTE: The Lighting Research Center in Troy, New York, USA and the Fraunhofer Institute for Solar Energy Systems in Freiburg, Germany conducted valid QTM, ISM and MCM testing for Lighting Global between 2009 and 2015.
*Approved Test Types are defined as follows:
QTM: Quality Test Method for Solar Home System Kits and pico-solar products
Renewal: Renewal testing according to the Market Check Test Method (MCM) for Solar Home System Kits and pico-solar products
AVM: Accelerated Verification Method for Solar Home System Kits and pico-solar products
ISM: Initial Screening Method for Solar Home System Kits and pico-solar products
MCM: Market Check Test Method for Solar Home System Kits and pico-solar products