Building product screening know-how for western Africa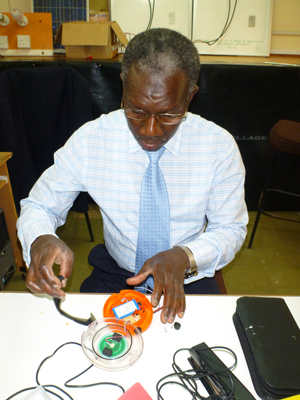 In the Nuclear Sciences Institute of the University of Nairobi, five men are packed inside a tiny darkened laboratory that tests off-grid lighting products seeking entry into the African market. Inside black curtains are drawn around a light bulb shining onto a black wall marked with white crosses.
The men, two Kenyans and three Senegalese, are deep in discussion about how to measure the brightness of the light by rotating the bulb carefully through 360°.  The results will then be entered onto a spreadsheet and compiled into a quality report.
This is one of the quick tests portable solar lighting products seeking the Lighting Africa quality certification are put through during an initial six-week screening>  process that is used to verify whether or not a product passes a basic quality and performance assessment.
"Torches that are sold by the roadside often look nice; smart on the outside with bright coloured casings, but when you take them apart the wiring inside is poor, there is a cheap battery and a metal rod has been put inside to add weight," says James Wafula, the head of the University of Nairobi lighting laboratory. "It is important to screen to prevent poor products spoiling the name of the young solar industry."
Currently, the only place in Africa these screening tests are done is the University of Nairobi. Coming soon however, is another laboratory at the Center for Renewable Energy Studies and Research (CERER) in Dakar, Senegal to serve the western Africa market.
The Senegalese are experts from the Senegal Rural Electrification Agency (ASER) and CERER they were in Nairobi for hands-on technical training on product screening in preparation for the new Dakar laboratory.
Initial screening looks at product durability (by dropping a product from a metre height to see if it can withstand the fall), how long the solar lamps retain their brightness, and battery lifespan, among other attributes.
Initial screening is followed by more extensive, four-month product quality and performance tests  at international test labs for products aspiring for Lighting Africa quality standards, which enable manufacturers to market their products easily, and assures consumers of product quality.
"The key to successful market entry is low-tech but thorough testing," says Chris Carlsen, an off-grid lighting specialist with the Lighting Africa program.