BLOG | How Lighting Asia/India empowers women through off-grid solar solutions (by Anjali Garg) – on IFC Medium
Nearly 80 million Indian households — or approximately 400 million people — still use kerosene as a primary source of fuel for lighting. Kerosene is unhealthy, polluting, and expensive. Not only is it detrimental to people's daily lives, the lack of efficient energy sources also limits educational and economic opportunities.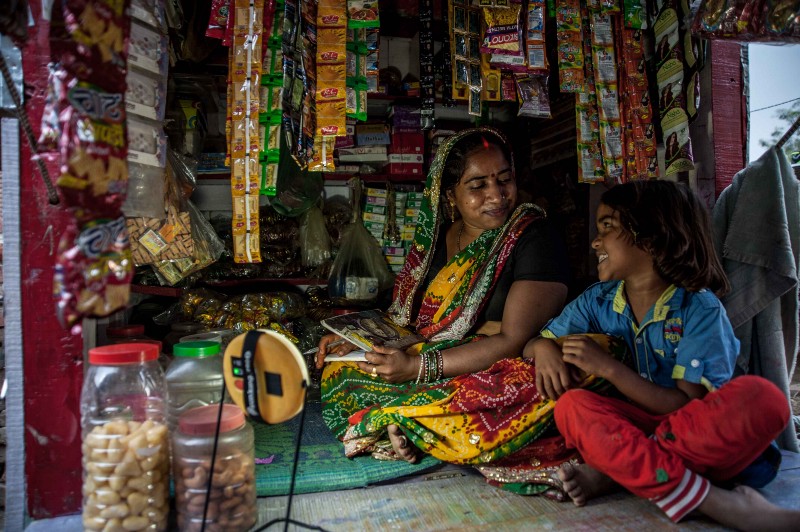 High-quality off-grid lighting and energy products offer a real and sustainable alternative to fossil fuels. A number of modern solar-lighting technologies that are cost-effective, reliable, and efficient have emerged globally over the past decade. Yet, they account for less than 8 percent of the energy market in India.
To develop this untapped potential, IFC has expanded Lighting Asia/India in three states — Uttar Pradesh, Bihar, and Rajasthan. Launched in 2012, the program accelerates access to clean and affordable energy by promoting modern off-grid lighting products, home systems, and mini-grid connections. It brings together private sector partners to address critical barriers to market growth by providing market intelligence, fostering business-to-business connections, strengthening distribution, and raising consumer awareness on quality-assured lighting products.
Women and children are disproportionately affected by the toxic smoke from fuel-based lamps. Replacing them with solar products would reduce indoor pollution, help save money, and allow people to operate small enterprises with reliable, clean, and affordable lighting. It has become clear that women are not only important consumers and entrepreneurs, but also key catalysts of the modern off-grid lighting revolution. With this in mind, we designed this program to have two women-focused components, which were launched in 2014.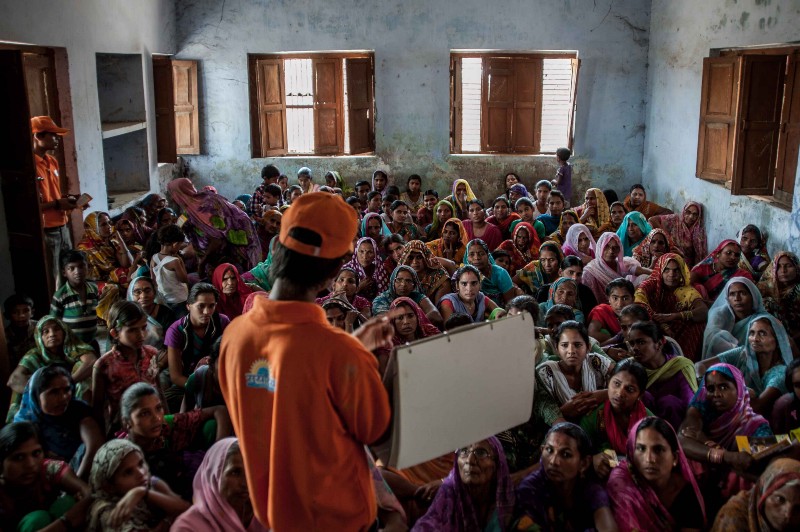 The first one aimed to increase awareness among women about the features and benefits of high-quality solar lights through a campaign titled SuryodayTM (meaning Sunrise). Over the 12-month campaign, we engaged more than 56,000 women and reached out to rural consumers, retailers, and distributors in more than 9,000 villages across the three states. We orchestrated mobile exhibitions, worked with schools, educated retailers, showcased wall art, aired radio programs, and produced videos. The campaign was supported by a dedicated toll-free number that helped consumers locate the nearest outlets stocking verified lights and provided a contact to answer any questions about solar products. A subsequent survey found that knowledge of verified lighting products and their benefits jumped from 25 percent to 60 percent. The campaign worked.
The second component built a cadre of women entrepreneurs to act as sales and service agents. We worked with Frontier Markets, a clean-energy products distribution company, to tap women's self-help groups to reach remote areas of Rajasthan. These women entrepreneurs, called Solar Sahelis (meaning "Friends of Solar"), educated households about the benefits of clean lighting and served as marketing, sales, and after-sales service agents. The program facilitated local collaborations for Frontier Markets with partners, including the Tata Trusts and PRADAN, thus widening the supply chain and distribution network in Rajasthan with those who work directly with women self-help groups.
"I really liked the solar products from when I first saw them," said Saroj Jat, a Solar Saheli from Samurtha District, Rajasthan. "Being a Saheli gives me the chance to earn more money. I am trying to study, so I can buy books and anything the household needs."
In an effort to encourage more partnerships, investment, and interest, the Solar Saheli initiative was showcased at a high-level event in Jaipur, Rajasthan, to more than 75 participants from leading multilateral financial institutions, manufacturing and distribution companies, non-governmental organizations, investors, and other international organizations.
To date, Frontier Markets has recruited 250 Solar Sahelis, each of whom typically earns $35 per month. The company plans to grow the network to 20,000 across Rajasthan over the next four years. "Women are not an impact story; women are actually smart business," explained Ajaita Shah, the company's CEO. We couldn't agree more.
By May 2016, Frontier Markets had sold 115,000 solar lamps and torches and 12,000 solar home-lighting systems — bringing the benefits of clean, safe, and affordable lighting to about 630,000 people in their homes. These households save even more money, as they no longer have to buy kerosene. Roughly 30 percent of sales have been through the network of Solar Sahelis, who have become a crucial part of the retail sales model. These women are now earning a regular income, often for the first time, along with a newfound respect within their communities.
As a milestone of progress and encouragement, Frontier Markets recently won the 2016 Ashden Award for Clean Energy for Women and Girls.
Anjali is an Energy Specialist with IFC Advisory Services. In her current role, she manages the Lighting Asia/India program, providing support to the private sector to build sustainable markets for affordable, modern off-grid lighting products for India's rural, un-electrified communities.