Basics of Integrating Sphere Measurement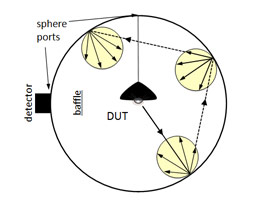 Lighting Global has published the latest in its Technical Note series titled "Integrating Sphere Measurement Part I: Basics".
This issue will be tackled in a three part series examining the proper maintenance and use of
integrating sphere light measurement systems
. The first Note is an overview of basic sphere theory, operation, and equipment.
An integrating sphere is often used to measure the light output of pico-powered lighting products. Sphere measurements are able to capture the key light output parameters of total luminous flux (in lumens) and the spectral qualities (color rendering index – CRI and correlated color temperature – CCT) of the light source.
In order to produce accurate, repeatable results, an integrating sphere must be properly calibrated and the equipment must be correctly configured to avoid testing errors.
Technicians using the equipment should be familiar with basic integrating sphere theory, proper equipment set-up procedures, and good maintenance practices.
Subsequent Technical Notes on this subject will focus on specific flux measurement procedures and integrating sphere equipment details.