Azuri Technologies recognized for global sustainability role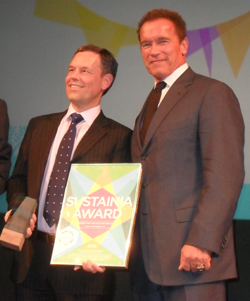 Solar lantern manufacturer and distributor Azuri Technologies is the overall winner of the Sustainia Award, a new global award that honors ideas, solutions or technologies that are expected to significantly contribute towards a sustainable future.
Azuri was granted use of "Nobel Sustainability supported Clean Tech Company 2012" in its marketing and communication materials.
The company was recognized for its Indigo Solar light which combines lighting and mobile phone charging with a pay-as-you-go energy leasing service that enables consumers to purchase their solar lanterns at roughly their daily cost of kerosene.
Consumers make their payments using top-up scratch cards which also recharge the lanterns. According to the company, 6,000 families in Kenya, Malawi, Zambia and South Sudan have bought and are using this solar lantern.
"Congratulations to the Sustania Award winner for being a true action hero and for proving to the skeptics and the naysayers that solutions already exist to meet the challenges our earth's planet is facing," said former US Governor Arnold Schwarzenegger.
"This award is about more than making the world more sustainable; it is also about improving the communities where we live. The Sustania Award is changing the focus of the climate change debate toward tangible solutions that can make a real difference," he added.
Sustainia is an alliance of organizations and companies working to create sustainable growth by identifying and elevating existing sustainable solutions, and mature markets for sustainable products and services.
"It is a great honor for Azuri to be recognized by the Nobel Sustainability Trust. Azuri's Indigo pay-as-you-go solar aims to bring appropriate power at scale to emerging markets and we look forward to working with the Nobel Sustainability Trust and other Sustainia partners to bring this ambition to fruition," said Azuri CEO, Simon Bransfield-Garth when receiving the award in October.
Azuri's Indigo pay-as-you-go solar light is among modern solar lanterns that have in recent months passed rigorous Lighting Global quality testing in recent months.
Gustaf Nobel, Chair of the Nobel Sustainability Trust, one of the Sustania partners said: "Azuri's Indigo solar solution for off-grid residents in the developing world corresponds perfectly with NST's vision where we envisage a world in which alternative, renewable and sustainable energy sources will be readily accessible to all members of society and avoiding environmental threats. We congratulate Azuri for their achievements and winning the Sustainia award 2012 and look forward to follow their future development."
Azuri was also recognized as a 'Technology Pioneer 2013' by the World Economic Forum in August. The company was among 23 technology start-ups from around the world that are seen as poised to make a positive impact on business and society.
'Technology Pioneers' that have developed marketable life-changing technology include Google, Twitter, DropBox, and Mozilla.