Availability of Solar Lights Increases in Rural Kenya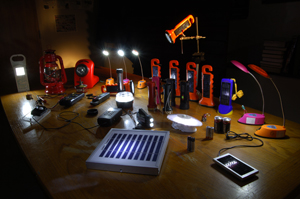 The market for clean, modern off-grid lighting products continues to exhibit good growth in rural Kenya, a new study just published by the Lighting Africa program shows.
In Kericho, a tea growing center, sales of torches, task lights and room lights had increased from some 37,000 units per year in 2009 to over 175,000 units per year in 2012, with growth expected to continue.
Of the modern portable lights available in three towns surveyed, the study found solar-charged lights are now much more widely available in Kericho and neighboring Talek compared to three years ago.
"We estimate that solar powered lights now have a market share of approximately 30% in Kericho and 26% in Talek (in terms of the monetary value of sales) compared to 2009, when we only found two solar lights available for purchase in these areas," Peter Alstone, one of the study authors, says.
Furthermore, the study found a marked increase in availability of quality-assured solar lighting products in the three rural markets of Kericho, Talek and Kapkugerwet/Brooke.
"Quality-assured solar products are now prominently available on the market. In Kericho and Talek, we observed 27 solar lanterns that had undergone and passed the Lighting Global quality testing in nine different shops. This represents a substantial improvement in availability of quality solar lights from the previous survey in 2009; at that time no quality-assured solar lighting products were available," the study authors say.
Lighting Africa has been mobilizing private companies to supply and service the largely untapped clean lighting market in Kenya, where only five percent of rural population is connected to the national electricity grid.
The program is working at creating vibrant markets for clean solar lights to replace the widely usedpolluting and hazardous kerosene lamps.
Lighting Africa implements a quality assurance framework for modern, portable solar lanterns to avert market spoilage. It also runs a consumer education campaign to raise awareness and educate rural communities on the affordable, solar lighting products available.
Despite increased availability of quality-assured solar lights, the recently concluded market survey in the three Rift Valley towns found a large number of solar lighting products that were of low or uncertain quality on the market.
"We found an additional 16 solar-charged products that had either not been tested at all, or that had not passed the rigorous Lighting Global quality tests. Without continued monitoring and consumer education, low quality solar products finding their way into the market may cause customers to lose faith in this emerging clean lighting market," the study warns.