African Lighting Market Records Explosive Growth, IFC/World Bank Study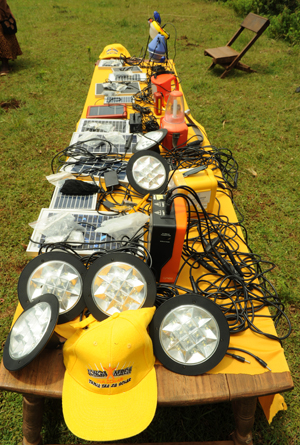 Sales of solar lanterns that meet industry quality standards designed for low income households and micro-businesses in Sub-Saharan Africa grew by more than 300% between 2008 and 2012, providing an estimated four million people with clean, brighter lighting, a new IFC/World Bank report finds.
The findings of the Key Trends and Developments in the Africa Off-Grid Lighting Market Report published by Lighting Africa, a joint IFC/World Bank program shows that these quality solar lanterns are fast displacing lighting products of unknown quality.
Consumers not connected to national electricity grids who are using kerosene, candles or batterypowered torches are sending a clear message of their desire for affordable, high quality lighting products, said Itotia Njagi, IFC Lighting Africa Program Manager.
The report found that the market share of quality assured, solar lamps increased nine fold between 2009 and 2012.
Daniel Murphy, World Bank Lighting Africa Program Manager adds: This dramatic uptake of modern quality lanterns proves that portable lamps are a viable pre-electrification strategy for governments to provide rural communities with clean energy while working on expanding national electricity grids.
Despite this impressive growth, however, modern lanterns are only being used by 2- 3% of the potential African consumers without electricity, who number about 600 million.
Other major findings of the study include:
Rapid increase of manufacturers/distributors of lanterns that meet quality standards from five in2007/8 to more than 20 currently, and product distribution in more than 20 countries up from just three;
Entry of multinationals into the market which previously was dominated by small social enterprises, many of which are now maturing businesses;
Increasing manufacturer commitment to value-added features, environment friendly components and user-friendly designs in a bid to meet customer needs such as mobile phone charging.
The findings released today at the Third International Off-Grid Lighting Conference and Trade Fair in Dakar, Senegal, also show some of the innovative solutions that can fully unlock this market.
Lighting Africa, a joint IFC and World Bank program, is mobilizing the private sector to build sustainable markets that provide affordable, modern off-grid lighting to communities not connected to the electricity across Africa. The program and its partners have brought cleaner, safer and better lighting to 4 million people, with a target to reach 250 million people by 2030. Lighting Africa is part of the global Solar and LED Energy Access program, an initiative of the Clean Energy Ministerial. For more information, visit  www.lightingafrica.org.