2015 designated the International Year of Light and Light-based Technologies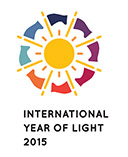 The United Nations has designated 2015 as the International Year of Light and Light-based Technologies to raise awareness on light science and how light-based technologies promote sustainable development and provide solutions to global challenges such as energy, education, agriculture and health.
The official launch of the year (IYL2015) takes place on  January 19-20, 2015 in Paris.
While lighting accounts for about 20 percent of electricity consumption, about 1.4 billion people in the world do not have access to electricity, according to the International Energy Agency (IEA).
In the Africa Energy Outlook 2014, IEA describes Africa as the epi-centre of an energy poverty crisis because about two-thirds of the population – some 600 million people – live without electricity.
The IFC/World Bank Lighting Africa Market Trends Report 2012 projects this proportion will balloon to about 700 million by 2030, making Africa the region with the highest number of un-electrified people. In contrast, the un-electrified in Asia are set to shrink from about 800 million to about 560 million by 2030.
"The primary purpose of our energy system is to enable a better quality of life," says IEA Executive Director, Maria van der Hoeven. "… modern energy unlocks access to better care, better education, better economic opportunities, and even, to longer life."
The IFC/World Bank Lighting Global, Lighting Africa, Lighting Asia and Lighting Pacific programs are working to develop markets for clean, modern lighting products for the people without access to grid electricity in developing countries.
The development of modern lighting products for off-grid communities has opened up a billion dollar market supplying low-income, off-grid communities in Africa.
The displacement of inefficient, hazardous fuels such as kerosene that are widely used for lighting by solar-powered LED lighting products in Africa has, for example, positively impacted the lives of more than 28.5 million people and averted more than half a million tons of carbon dioxide.
Good quality, affordable lighting products in un-electrified regions are providing significant educational, health and environmental benefits to families there.
"The International Year of Light will surely raise awareness of these powerful discoveries and their present wide-ranging, light-based technologies which are significant contributors to the world market," says Nobel Laureate Ahmed Zewail of the California Institute of Technology.
This International Year has been the initiative of a consortium of scientific bodies together with UNESCO, and will bring together many different stakeholders including scientific societies and unions, educational institutions, technology platforms, non-profit organizations and private sector partners.